Today we excited to launch our first new Board Template since the site went live, we are adding in a "10X Planner" board template to help you schedule your day and reach your goals.
What is a 10X Planner? It's a daily planner created by Grant Cardone to help you to be 10X more times productive by scheduling your day into small, obtainable goals. If you are interested in a non-digital version I'd suggest going to his site and buying his hard-copy version. Visit Site… (We are not affiliated)
👊 Retrospect.team is a simple Kanban styled Retrospective Tool for teams to quickly collaborate on post sprints and project feedback.
The screenshot below shows what an actual 10X Planner looks like in printed form, we have taken this format and matched it as closely as possible to achieve the same effect…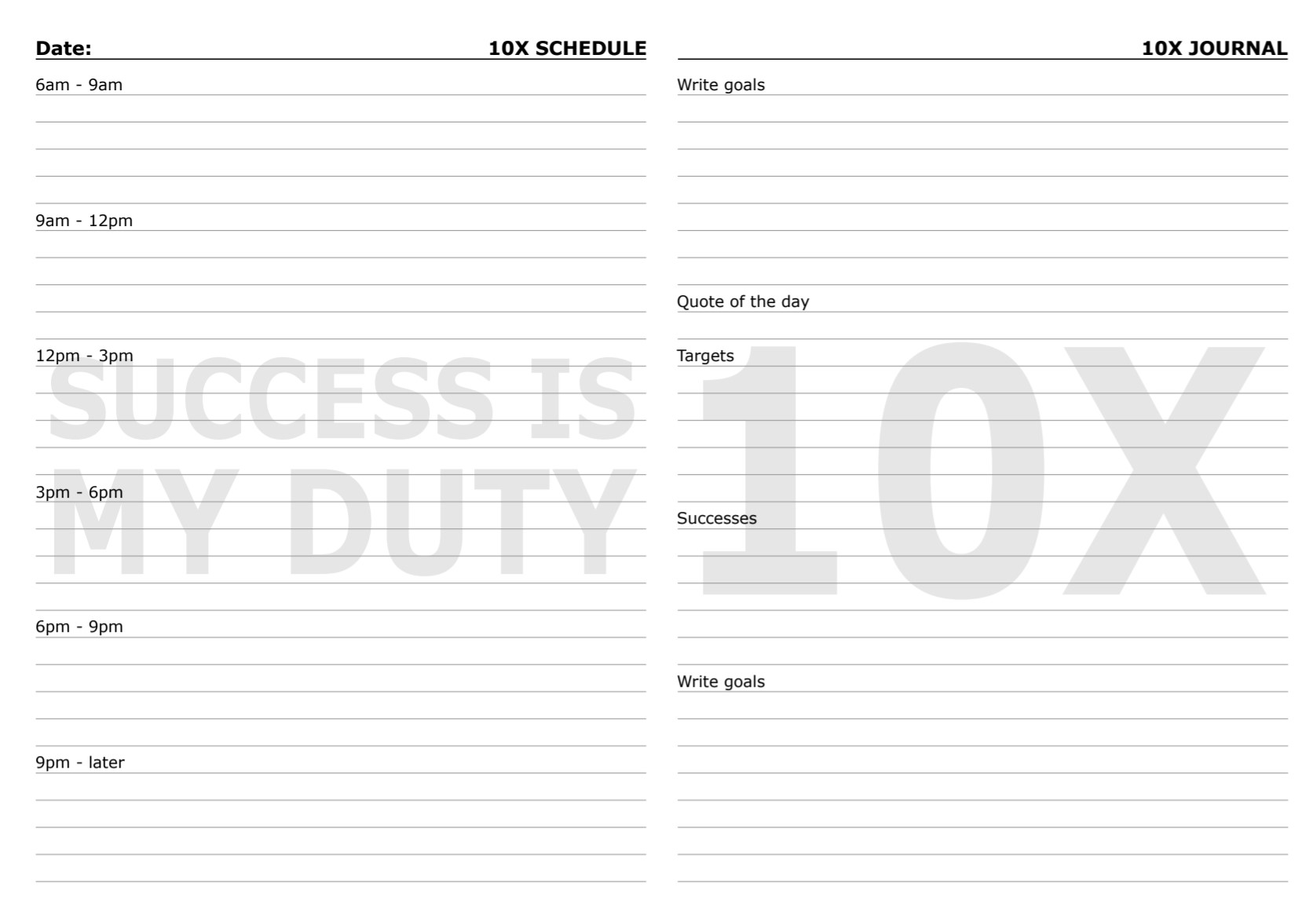 It's super easy to create your first 10X Planner on Retrospect…
 Create an account or login at https://www.retrospect.team
Click the Plus (+) in the header or click on "New Board" from your "My Boards" page.
In the "Create New Board" dialog, enter the title of your new board, we suggest using the current date so you can keep them ordered nicely for reference later.
Select "10X" Planner" from the "Template" drop-down, and click "Create Board"
Then simply start editing all the cards to fill in the details you need for your day.
Done!
Create your first 10X Planner at Retrospect.team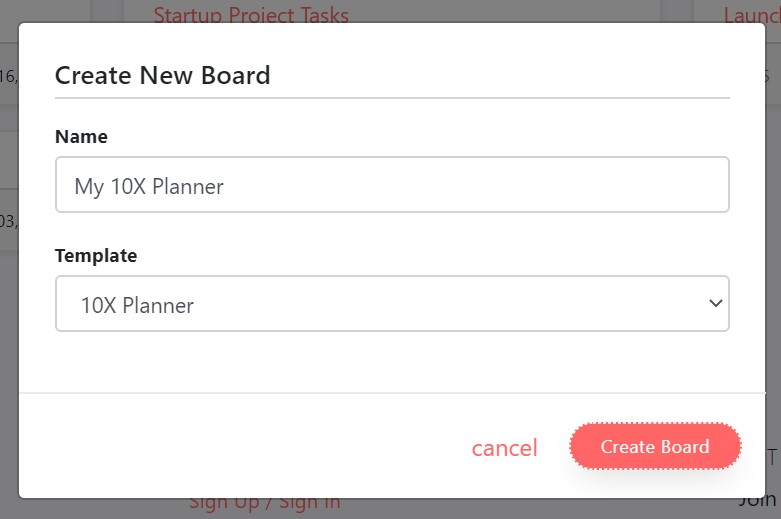 The screenshot below shows what a blank 10X Planner Board looks like. From here, you can edit each card and in your tasks for each time range, enter your goals and other Journal entries, and when you are done with each card, simply move it to the "Completed" column so you can keep track of where you are in your day (Or if you like the format, just delete the Completed column and leave the cards where they are now.)
If you don't have any private information on your daily plan, you could consider sharing the board for others to see what you accomplish each day and get support from your friends. Simply use the "Shareable Public Link" option under the "Visibility Settings" tab. NOTE: Other users will be able to edit your shared board, unless you upgrade to our paid plan where you can then access the Board Permission settings to disable editing.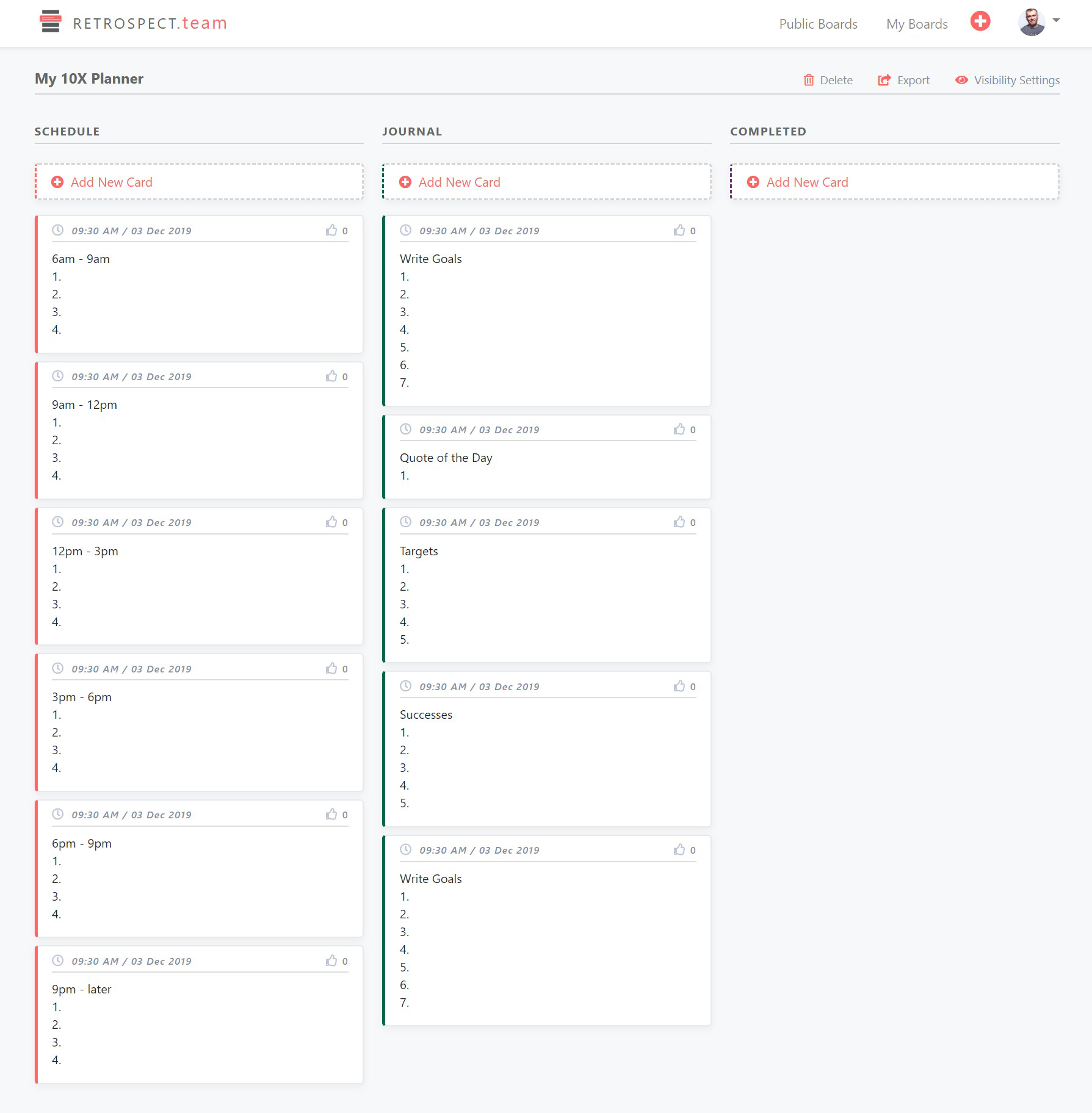 We hope you enjoy this new template and are able to be 10X more productive!
Come give Retrospect a spin: Retrospect.team