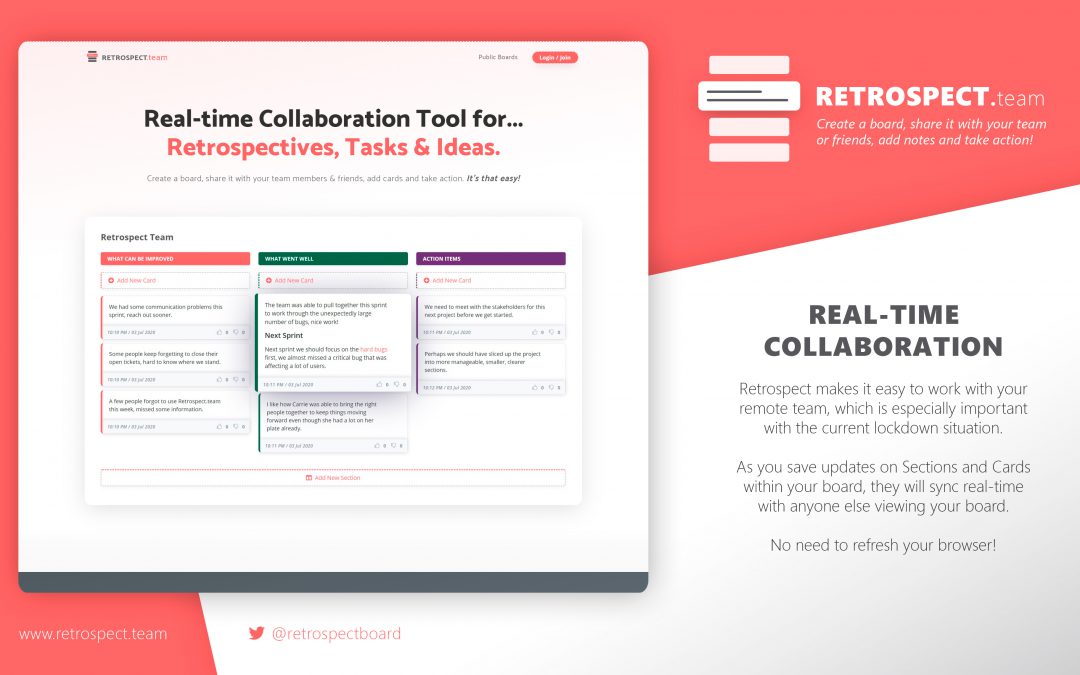 Retrospect.team was first launched in June of 2018, a little over two years ago! Hard to believe it's been that long already. Today we are officially announcing all the new updates and features and calling it version 2 of Retrospect. Read on to learn more…
Introduction
For those of you not familiar with Retrospect.team, Retrospect is a real-time collaboration tool for Retrospectives, Tasks and Ideas. It's a Kanban board of Sections (topics), Cards (ideas/thoughts) which you create and share with your team members, friends, family or keep it private to yourself.
It's perfect for remote, distributed teams who need an easy way to quickly collaborate on ideas and to easily run retrospectives after sprints. It's also flexible enough to use for personal use as a task list, note system, daily planner and countless other uses. We'd love to know how you end up using it.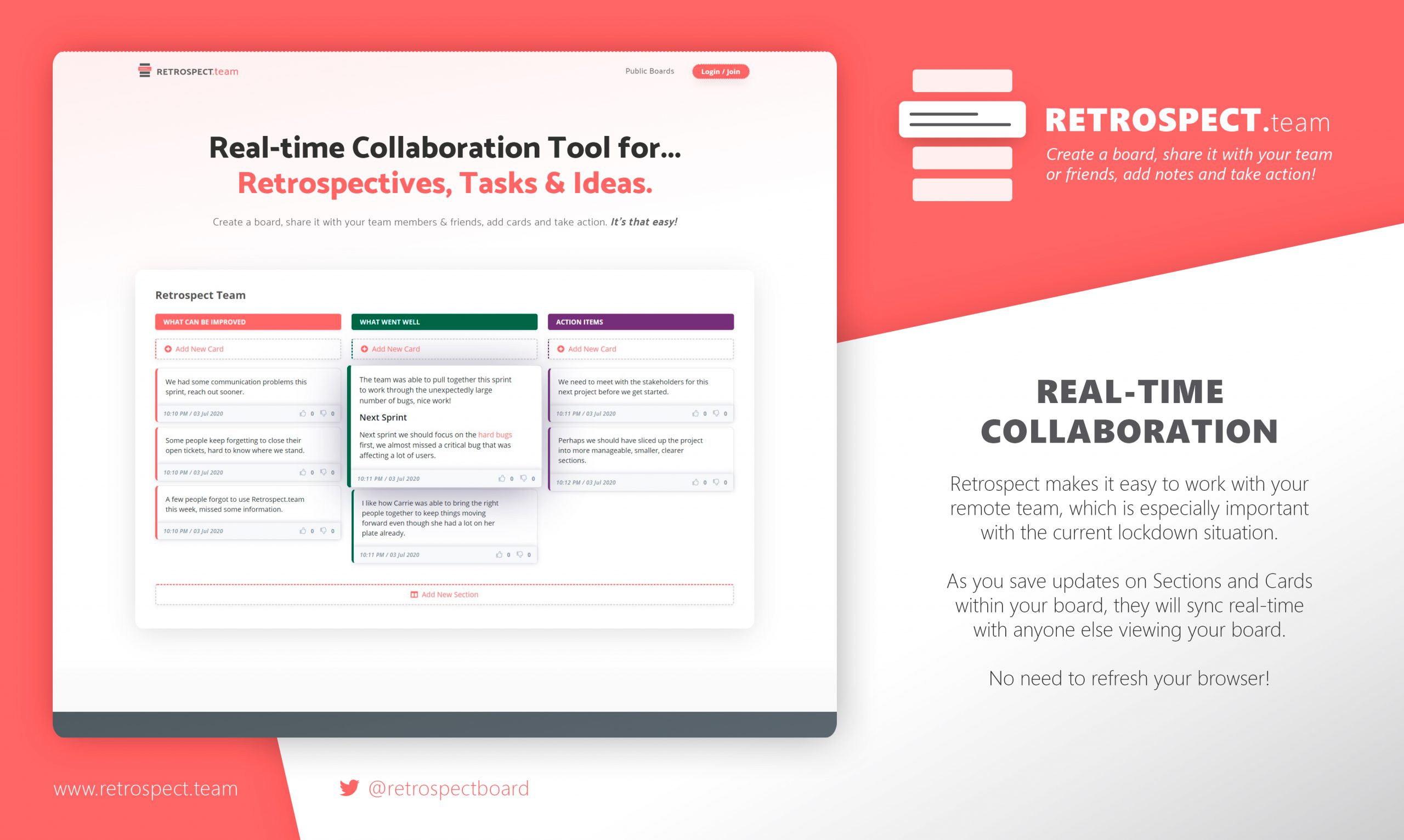 Board Templates and Pricing
To make it easy to get started, we offer 6 board templates to choose from. Don't worry though, you can completely customize it to your needs after the board has been created.
We recently released a Pro feature which allows you to save your own custom board templates that you can re-use over and over, makes your life much easier!
We believe in providing quality tools at an affordable price, to get you started we offer a Free Account in which you get 3 boards, unlimited sections and cards. Use this level of account for as long as you want, when ready, you can upgrade to our Pro Account.
For a limited time, we are offering a Pro Lifetime Account for a one time payment of $48. This gives you unlimited boards, advanced permissions and all current and future upgrades. It's a great value that you shouldn't pass up!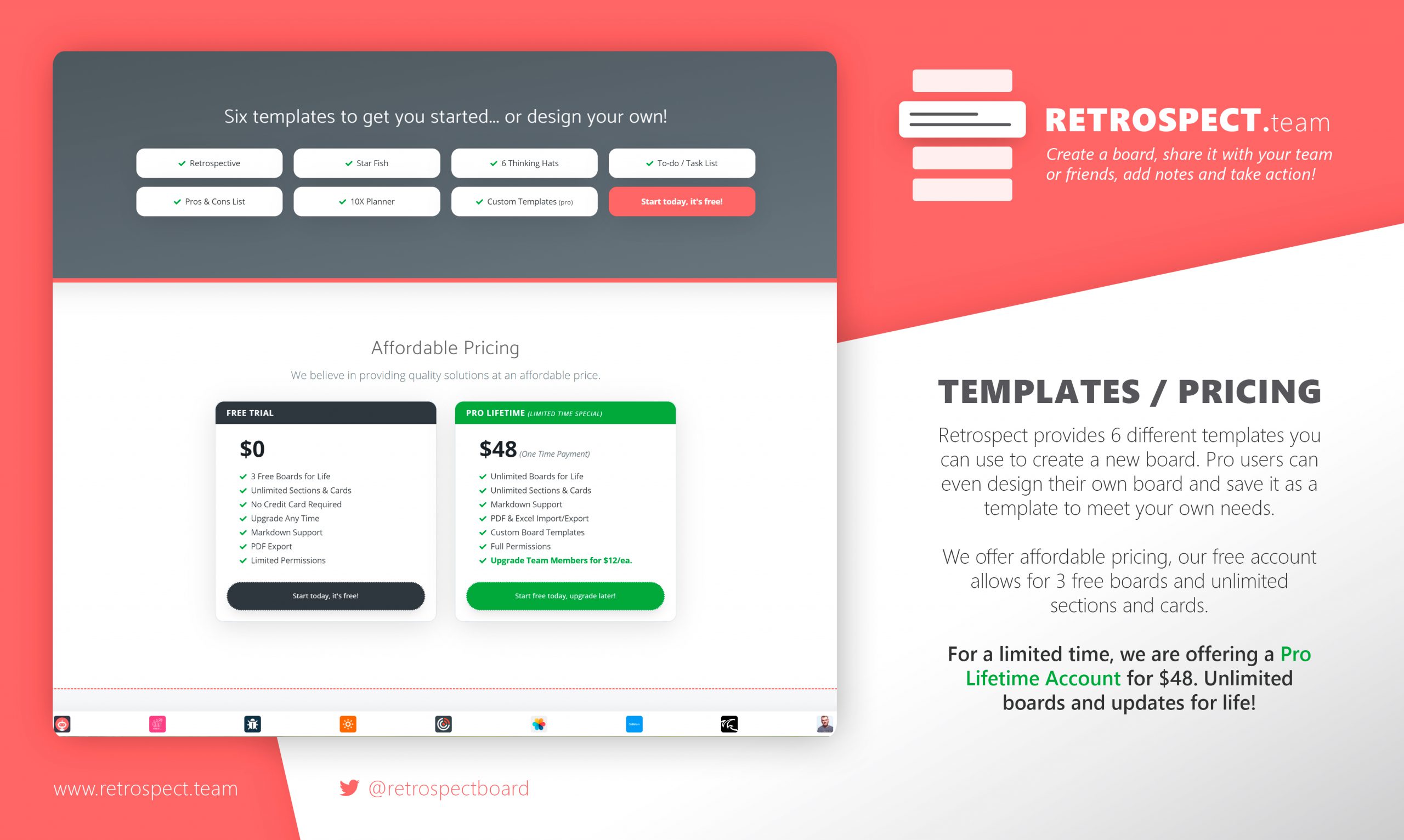 Members and Organizations
Over the past two years we have continued to steadily grow, we are happy to announce that we now have over 6,000 members and organizations who utilize our services. Over the next two years, we expect to grow significantly faster as more and more people discover us and bring their entire teams onto the platform. We are excited to learn from our customers and always encourage you to provide feedback.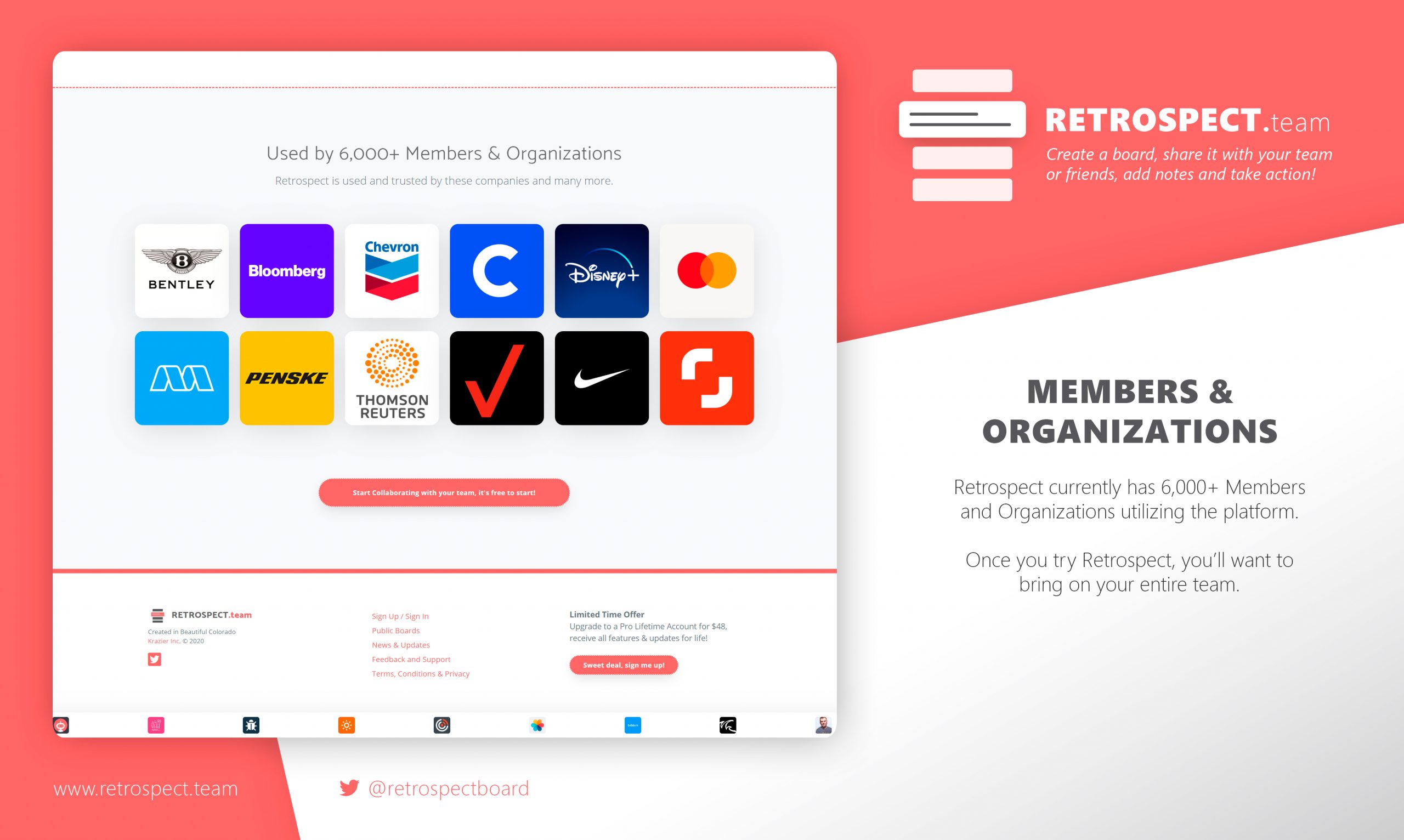 Public Boards
We released the ability to make any of your boards publicly discoverable, this allows anyone to find your board from our site and if you allow them, they can login and modify your board with their own content and updates.
Have a cool list of resources you want to share with people? Just add them to a board, make it public and share the link. The the type of content you can quickly share with anyone is nearly limitless, we hope you take advantage of this functionality.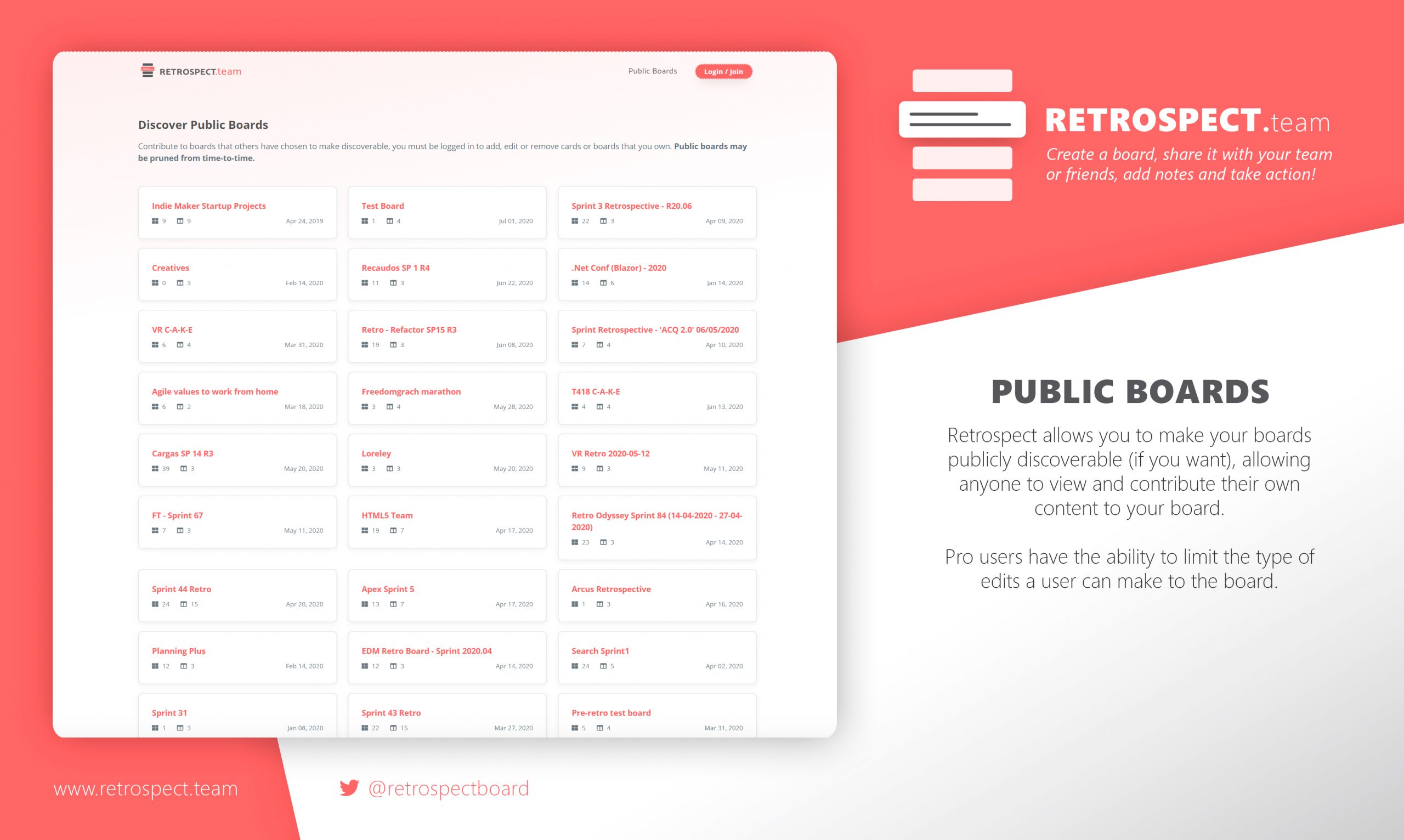 My Board
The most important piece of Retrospect of course is your Board, each board contains Sections and Cards which you can modify as needed. We have worked hard to improve the experience and design of this page to make it easier to use while adding new functionality without cluttering up the workflow.
Some new functionality includes:
More Permissions for Pro Users
Re-arrange Sections
Save Board as a Custom Template
Export to Excel with ability to Import back into the Board
Toggle Edit Mode, which allows you to hide the editor if you want a larger area to show content. Great for presentations.
Downvote card option.
Lots of other little refinements with more to come!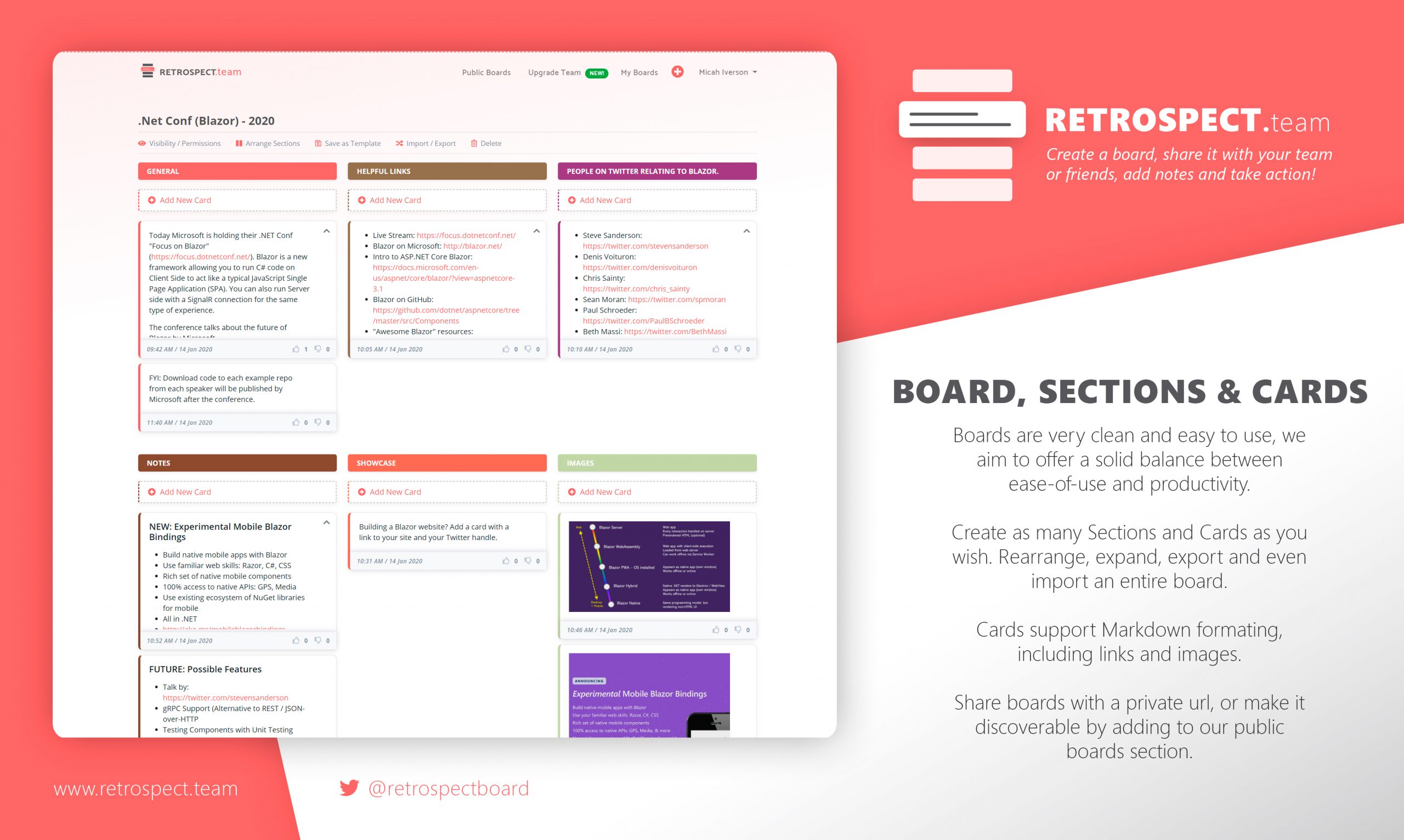 Permissions
Pro users have the ability to adjust permissions for each board, this includes Section and Card level permissions. We also provide you with a private URL you can send to anyone or make the board public for all to see.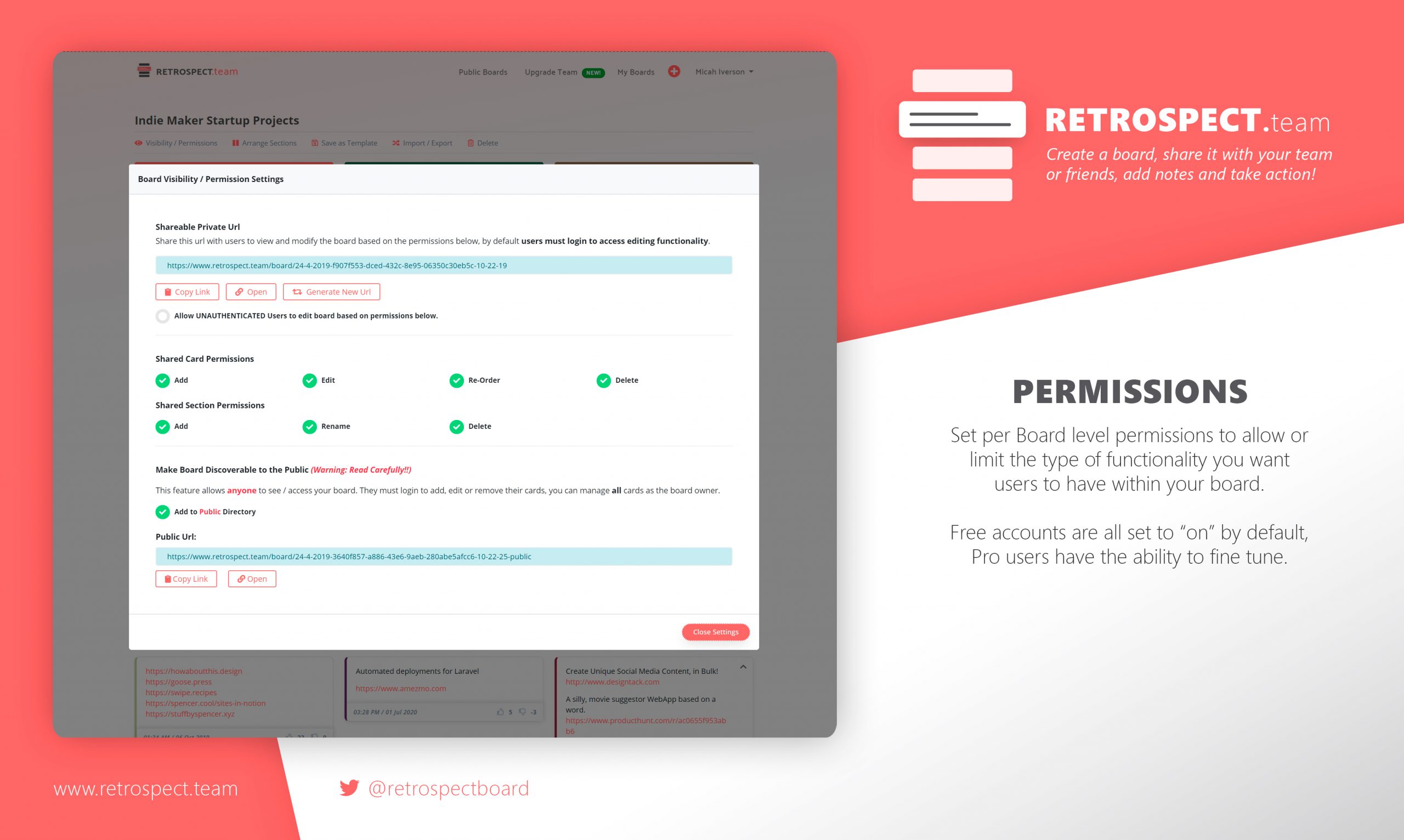 Team Upgrades
This is one of my favorite additions we have added – Team Upgrades. Let's say you are the manager of a team and you have 10 team members, if you upgrade yourself to our Pro Lifetime plan for $48, you then unlock the ability to upgrade your team members as well and for a much lower price of just $12 each. Each team member you upgrade needs to already be a free member, once they are, simply add their email address/s and then checkout and pay. The next time the login, they will have a Pro account, it's easy!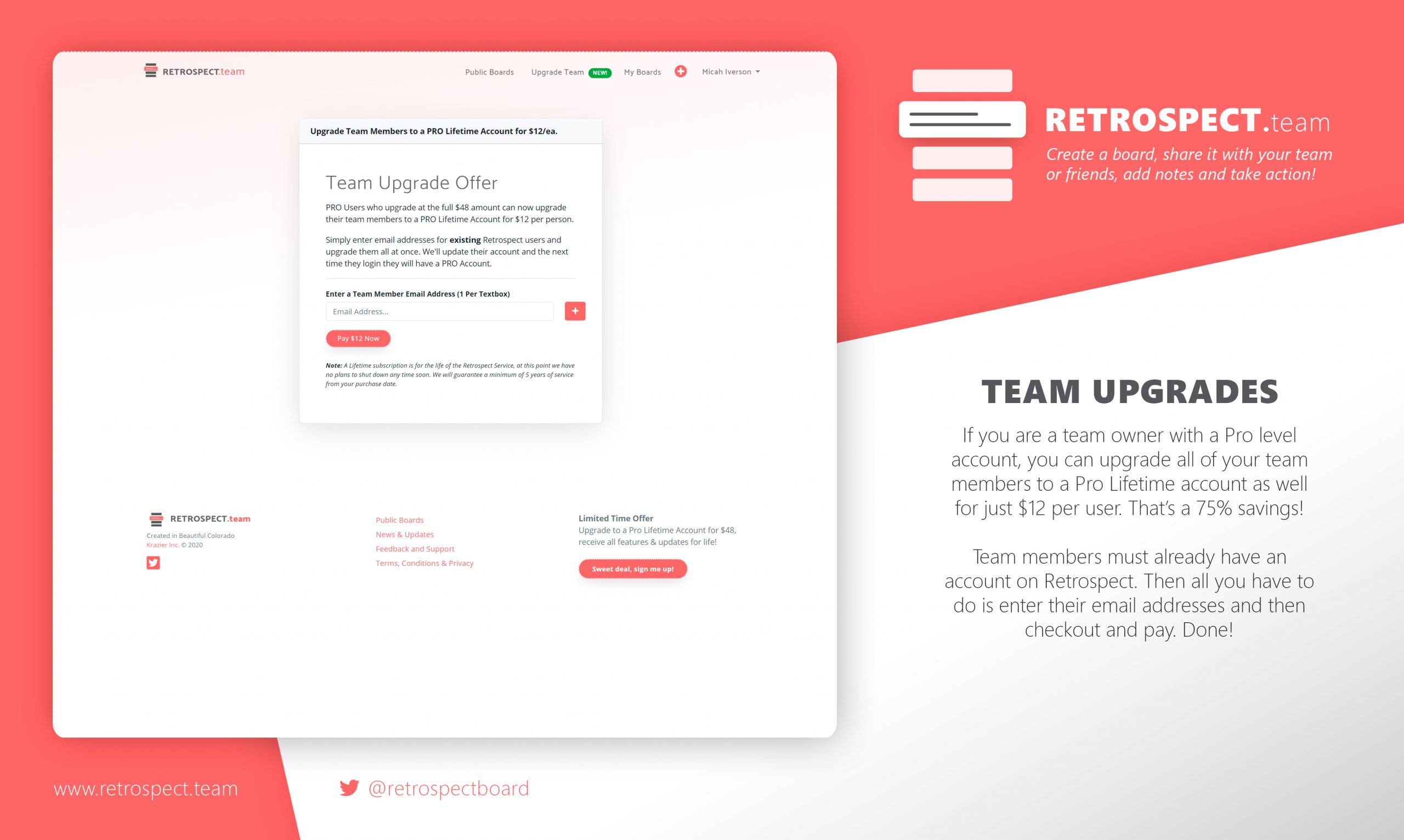 Wrapping Up
That is a quick overview of some of the changes we have made over the past couple of years, there are lots of things we have improved and added and will continue to do so moving forward.
Added Markdown Support
Re-arrange Board Sections
Date Modified Ordered Boards
Improved Advanced Permissions
"Downvote" option on Cards
Toggle Edit Mode
Save Custom Board Templates
Added 10X Planner Template
Export and Import Full Boards
Improved UI and UX
Public Boards
We encourage to swing over and give it a spin, whether you are on a team or need it for personal use, we are certain that you can find a use for Retrospect.
Thank you!